This is going to be a fairly short post. I'll just briefly be covering…
What is Throat Punch Thursday?
Why am I doing Throat Punch Thursday?
How you can get involved?
Preface: This may sound a bit like a rant because it is. However, please note… This is meant for educational purposes and should not be misconstrued as whining or complaining. 😛
What is Throat Punch Thursday?
This random idea popped in my head a few weeks back when I was at the gym training. I needed a 25lb plate, but… oh look… there's no way to get to the 25 because it's been covered up with a 45lb plate, and it's blatently freaking obvious that the 25 isn't coming off unless you pull off the 45 first.  (And yes, I am that lazy when it comes to using weight.  Pulling off the 45 to get to the 25 is too much work!)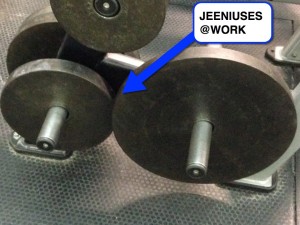 This type of laziness (and blatant disregard for efficiency) runs rampant and takes me, myself, and I to a bad place. haha!
Why am I doing Throat Punch Thursday?
This is a nice non-destructive outlet for sharing those "lil annoyances" at the gym that make you smack your head and say, "REALLY?? What the H – E – Double hockey sticks was the moron that did (insert random stupid thing here) thinking?"
And I'm also hoping that by sharing the shear stupidity (or maybe just laziness) of some people, it'll shed a light on this worldwide epidemic and maybe, just maybe, if we all come together and acknowledge the problem, we can find a cure.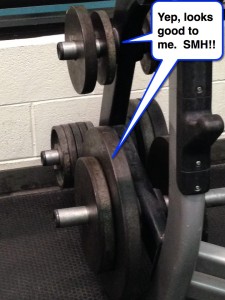 How you can can become part of the solution?
Instead of being a lamo facebook sheep in the "Throwback Thursday" crowd, why not participate in "Throat Punch Thursday" and shoot a pic or two of something at the gym (or training related) that makes you want to just throat punch someone.
Step 1: Like the Violent Zen™ FB page: https://www.facebook.com/OfficialViolentZen
Step 2a: Post your best "Throat Punch Thursday" pic (on the Violent Zen page, or post on your timeline and tag ViolentZen.
Step 2b: (Optional) Let me know if you have any ideas for a cure.
And that's it! I'll be re-posting your images on facebook for the world to see and hopefully to help bring more awareness to this epidemic of stupidity and laziness.